The UH Mānoa College of Education is a small public college on an isolated island in the Pacific. Often stereotyped as 'laid back," the population of our islands is smaller than most mid-sized cities in the continental U.S. Given our small population and isolation, you might expect that we accomplish less than our metropolitan cousins. But this week, like many weeks, I read the new profiles and news about our professors, students, and alumni, and I think, 'Wow!'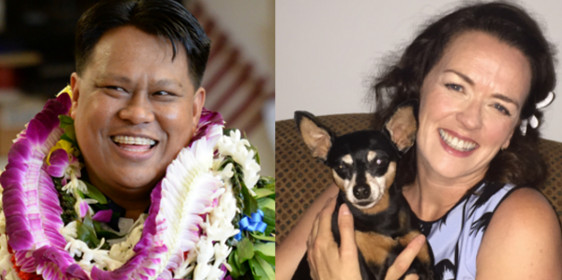 This week's news featured a story about the winner of the 2015–16 Milken Educator Award (and $25K cash prize), a Waipahu High School (WHS) science teacher named Michael Sana who earned both a post-baccalaureate certificate in secondary education and a master's degree in curriculum studies from the UH Mānoa College of Education. The story of how he earned the award is uplifting, to say the least. If you haven't read it, you'll want to.
Since becoming chair of WHS's science department, Mr. Sana has helped to transform the school's science curriculum into the rigorous college and career-focused program it is today. He is responsible for increasing the number of AP Biology students from 12 to more than 50, and many of his students have gone on to receive college scholarships. Through his encouragement and guidance, his students also conduct scholarly research, which has led to 120 publications with the National Institutes of Health. My youngest son attended a high school that was being restructured and had no AP courses available - I can only imagine what an impact it would have had on him to have had access to teacher like Mr. Sana.
The recipient of 14 education awards over the last ten years – including awards from the Hawai'i State Teachers Association, Bishop Museum, the Society of American Military Engineers, Chevron Hawai'i, and the National Science Teachers Association – Sana can add the prestigious Milken Educator Award to the growing list. He credits his teachers for helping him become the educator he is today.
Which brings me to the profile I just read about one of the professors in the Curriculum Studies department where Mr. Sana received his Master's Degree. Her name is Dr. Sarah Twomey. Like Michael Sana, she started with a desire to work within communities of diversity that value and care for the children of their community. While Dr. Twomey never imagined that she would end up as a professor in Hawaiʻi, she shares how it has allowed her "to continue to be an advocate for public education and to support teachers in the difficult and very important role they play in creating future citizens who will be capable of responding compassionately and effectively to global changes in all areas of society." Teachers like Michael Sana gain the skills they need to make a difference in the communities they serve when they learn from like-minded professors like Sarah Twomey.
"My history as a teacher in public education in Canada has given me a maturity and understanding of the importance of recognizing the role of justice in driving effective change. In Hawai'i, this has become a commitment to decolonizing education in order to honor the ancestral knowledge and self-determination of Native Hawaiians. As a visitor to this place, I have learned the responsibility of reciprocity from the host culture. To facilitate a dynamic, respectful, and intellectually challenging learning environment has been my goal as a professor while at the University of Hawaiʻi at Mānoa." ~Dr. Sarah Twomey
Recently, I read a quote below a video from the crew of the Hokulea, who are just arriving in Brazil. They are depending on the power of education to change the world we live in and raise up a global minded generation who will mālama honua with them.
"If we are to leave a better Earth for our children, we must also leave a better children for our Earth."
The original quote says we must "have better children for our Earth." But I think there is work to do, and it sometimes seems overwhelming, and maybe even a little bit daunting given the small role we occupy on the world stage. But when I look around at the educators housed within and coming out of the UH Mānoa College of Education, I still say 'Wow!' And I'm pretty sure I can see the better children our planet deserves sitting in their classrooms, nodding their heads, raising their hands and voices, and approaching tomorrow with the education they need and deserve.